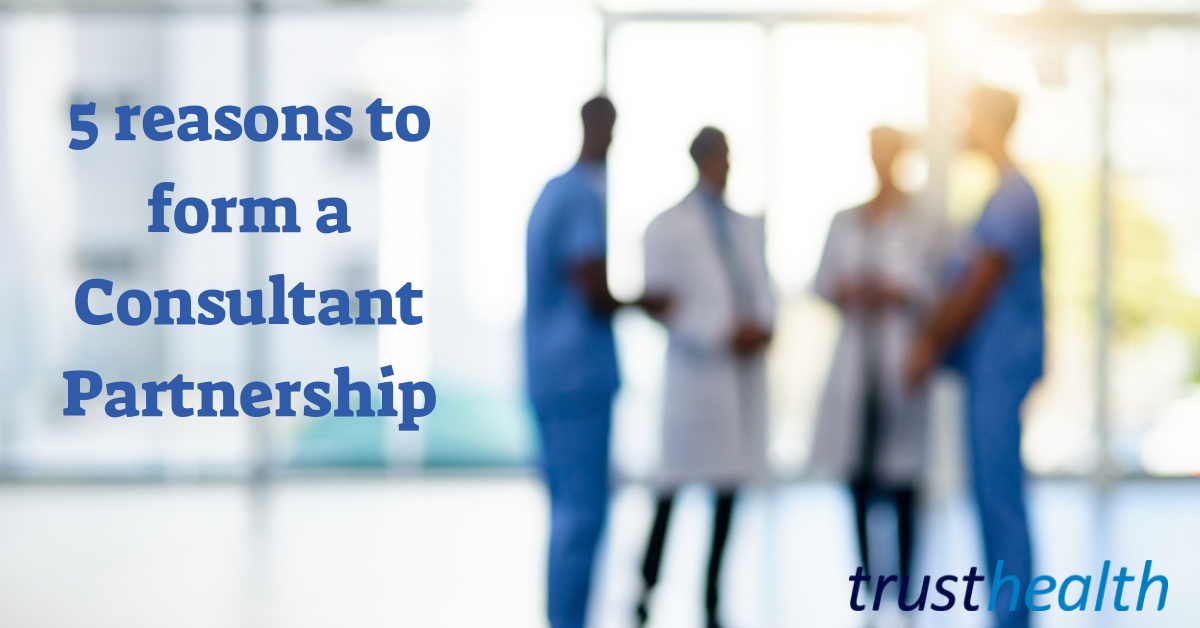 You know that other consultants are forming partnerships (usually limited liability partnerships – LLPs) but you're not quite sure why and if this is what you too should be doing. There are so many questions you have. For example, how does it work? What would you do with the partnership? What sort of work can you put through it? Is there any point? To name but a few.
Here are some of the main reasons why consultants form partnerships:
To help their NHS Trust increase throughput and therefore increase income
Many partnerships (LLPs) are formed to provide additional capacity to the consultants' NHS Trust. It is a common position for theatres to be idle in the evenings and at weekends and sometimes even during the week. But with an engaged theatre team prepared to work extra hours for an LLP, the hospital will benefit from increased numbers of procedures taking place, resulting in increased income from the CCG.
A consultant owned LLP engages the theatre team and offers their combined services back to the Trust out of hours. The result is very efficient and productive lists.
Clinics can also be run through an LLP, with the clinic staff being employed by the LLP – once again this results in efficient consultant led clinics.
To regain consultant control and engagement
A number of consultants are becoming frustrated by lack of control of their activity within the NHS. Working within an LLP that has contract with the Trust, can address these frustrations. It is well documented that if there is personal engagement in a project where decisions can be influenced, then improvements in efficiency and productivity occur. A consultant led LLP empowers the theatre and clinic teams and really can make a difference to how lists are run, managed and delivered.
To improve theatre and clinic efficiency
When consultant owned LLPs employ their clinical team, the method of pay is key to how the activity is run. NHS Trusts typically pay sessional or hourly rates, but one of the key issues with this is that this is not how they themselves receive income from the CCG. They are usually (unless they are on a block contract) paid per patient for activity that takes place.
Paying staff for extra activity on a sessional or hourly basis, irrespective of the activity that takes place, can be financially disadvantageous for the Trust. What about DNAs or patients that aren't medically fit for procedures and cancel last minute? If the procedures are booked and the staff arrive, then the staff are paid by the Trust anyway.
LLPs can address this issue as they are able to pay their staff for the activity that they actually do – efficiencies improve and there is increased engagement from the clinical teams. It's a win-win for everyone including the Trust.
As a marketing vehicle for the future
The future of "free at the point of delivery" healthcare is uncertain – a decreasing death rate and an increase in life expectancy is resulting in an ever increasing population. Will NHS consultants still be employed by the NHS in 10 years time? Or will they be self employed and contract their services to different providers, one being the NHS, as in some other counties? If so, they will need to be ready to market themselves to an increasingly competitive market.
There is a good argument that if consultants set themselves up now in a business, they will be ahead of the game and can start to market their services now. Digital marketing is increasing exponentially and having a brand that can be marketed is vital. Consultants may miss the boat if they delay in forming a business now and beginning the process of brand awareness of their services and expertise.
And finally, to help mitigate the tax situation with the annual and lifetime pension allowance
Following the introduction of the annual and lifetime pension allowances, many consultants are finding themselves in a position where they are paying more tax than they are actually earning, ie paying money out to work!  However they still wish to support their NHS Trust and undertake additional work but without paying for the privilege of doing so. Earning money through an LLP is a vehicle for delivering additional work to the NHS, whilst potentially mitigating the tax implications.
These are just a few of the reasons why consultants form partnerships, particularly when wanting to support their NHS Trust. If you need help or advice in establishing your medical partnership or with commissioning your services, please get in touch.
Sally Barr
Managing Director
barrs@trusthealth.co.uk