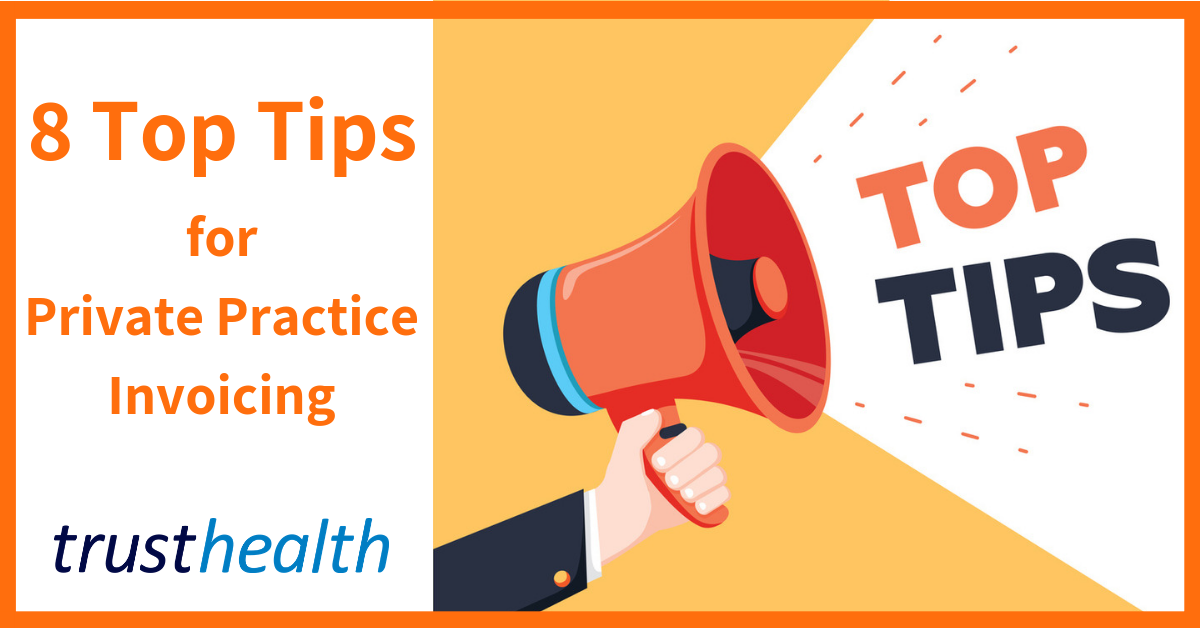 Whilst raising private practice invoices and receiving payments is, on the surface, relatively straightforward, there are a few key things doctors need to be aware of when raising their invoices. After all, you are not working for free so it is important to ensure you get it right.
BUPA and Vitality do not accept private practice invoices more than six months after the treatment or consultation date. For the best chances of payment from insurers and patients, invoices should be raised within 24 hours.
Ensure you are charging the correct fees. Your self pay fees may be different from your insurance fees,  But each insurer will also pay a different amount.  In addition, the insurers amend their fees on a monthly basis, so ensuring you keep on top of this is vital.  We have come across consultants who have innocently billed insurers for the incorrect fee, the insurers have paid and then several years later the insurer recoups the fees.  It's worth getting it right at the outset.
Don't put your home address on your private practice invoice. Do you really want patients knowing this?  If you are invoicing through a limited company or LLP, then you do legally need to include your registered office address and company number, but otherwise use the hospital address. If the registered address of your company is your home address, consider changing this to say your accountant's address.
Review your self pay fees regularly. Are they comparable with your experience, expertise and geography?  Ensure you are charging your worth as we see so many consultants who are not.  Patients select their consultant for a number of reasons, and price is only one of them but usually not the primary one.
If you have a software system, eg PPM, DGL, make sure you are billing the insurers electronically directly through it. There is no need to upload the patient information again on to Healthcode to bill electronically. There are various processes you need to go through to get this in place, but once set up it will make your life much easier.
Timely allocation of payments received, and therefore raising and sending of excess/shortfall letters means you are more likely to receive your fees without issue. If you delay in allocating, this delays the shortfalls being generated and patients are less inclined to pay.
Make sure you have credit card facilities and a phone that is answered for when patients ring to pay. In a recent survey only 66% of telephone calls to medical practices were answered. This is astounding as the practice will not only lose referrals, and new patients, but will also lose out on patients ringing up to pay.
Don't chase any outstanding invoices yourself as it is difficult to differentiate between the clinical and financial aspects of your practice. It is better to keep the two separate so the lines do not become blurred with patients.
It is a common misconception for doctors to believe that they "can't afford" a billing company. Obviously, billing company specialists do charge, but at Trust Health we can almost guarantee for consultants doing their billing themselves, they will receive a greater net income even after paying our fees, than they would if they completed their billing themselves.  This is because we are specialists and will collect more of their fees by the end of each year that they do themselves, effectively cancelling out our fees.  In addition, the doctor will then find that he/she has more free time, either to spend clinically seeing more patients, or just giving themselves time to do what they enjoy in life.
Contact Sally Barr on barrs@trusthealth.co.uk for more information.  We have different levels of services we provide to meet the individual needs of each practice.
Sally Barr
Managing Director
Trust Health